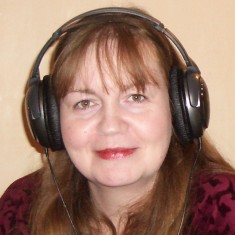 Julie Hill is a freelance presenter, writer, and columnist. Her first love is dogs, but she adores, and has shared her life with, lots of companion animals. Writing and talking about dogs, and other pets, is her passion; her aim is always to help people live in greater harmony with their animals.
She has written articles, features, columns, theatre reviews, investigative, opinion and humorous pieces, for a variety of magazines and websites. She is frequently asked on to national and local BBC radio to discuss dog related topics. Whatever she is doing, she believes humour helps most situations go more smoothly.
That sense of humour led Julie to write and perform stand-up comedy, being a finalist in a Costa coffee comedy competition, performing at the Comedy Store in London. She also took part in a Comic Relief comedy evening in Birmingham at the Glee Club alongside Jasper Carrot.
With her beloved Labrador, Buddy, Julie participated in displays in the main arena at Crufts, and the pair delivered educational talks for the charity the Blue Cross.
She has hosted DogCast Radio since 2005, and also co-hosted the Dog News Show, and Zoo Cast UK.
Learn more on: