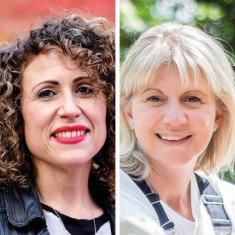 Natalie Silverman is an established radio broadcaster, having presented on commercial radio for Global for over a decade and she works as a professional voiceover artist. After five years hosting a breakfast show for Heart, Natalie stepped off the airwaves once successfully pregnant after NHS funded fertility treatment and in September 2014, Natalie launched The Fertility Podcast. It's mission is to educate and empower people looking to understand more about their fertility. To date she has released over 180 episodes speaking to fertility experts around the world and sharing stories of men and women talking about their infertility struggles and Natalie works actively within the fertility community hosting events and panel discussions and making bespoke podcast content for organisations wanting to tell more stories about their patients and the work they do.
Kate Davies (RN, BSc (Hons), FP Cert) is a fertility nurse consultant and IVF coach. She is the founder of 'Your Fertility Journey', a clinic offering high quality advice and support for women and couples who were struggling to conceive. Kate works with her patients to optimise their ability to conceive naturally and coaches women going through a difficult fertility journey.
Prior to setting up in private practice, Kate's worked for over 20 years as a NHS specialist nurse and an NHS manager in Gynaecology, Sexual and contraceptive health and fertility.
As well as all things fertility, Kate has a special interest in PCOS and has helped 100's of women take back control of their PCOS and improve their fertility.
Kate has a passion for radio and uses this platform to break the silence surrounding infertility and IVF.
Learn more on: