Bad acne can leave behind scars, both emotional and physical. Still, there's hope for people wishing to overcome these challenges.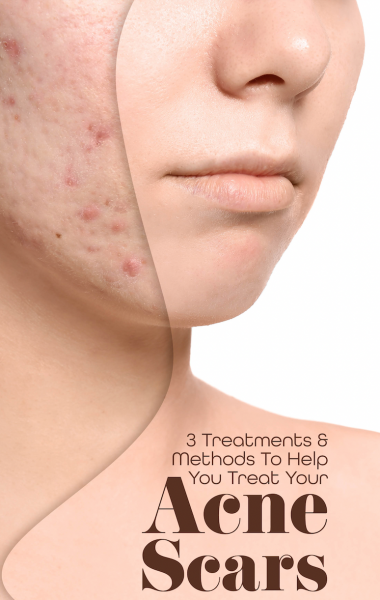 After all, even something as simple as a skincare regime has changed people's lives in these circumstances. While things aren't always that easy, it's important to be as upbeat and proactive
as possible when treating any grievances with your skin.
For acne scars, you have several treatment options and methods available to you. We've listed three of the most promising ones for you after the jump.
HOME REMEDIES
Some home remedies have proven to yield results when treating acne scars. However, before use of any one of them, you should always consult your GP and dermatologist on whether what you're doing is safe and advisable.
Compare the recommendations of your health specialists with any home remedy listicles youfind online. That wav, you can cross-reference your findings and ensure you're on the right path.
Coconut oil, aloe vera, baking soda, and lemons are just some options that might be worth considering. Of course everyone's acne sears vary in volume in severity. Home remedies that worked for others may not have quite so prominent an effect on vou. That's okay, though. You have other options, so be patient as you pick through them all. Home remedies often need to complement other treatment options, too. so don't expect your acne scars to fade overnight.
CHEMICAL PEELS
Chemical peels are a highly effective method of treating acne scars. Gently removing the outer layer of your skin, chemical peels then facilitate the growth of new skin. They come in different strengths, with the medium variety reducing the appearance of people's acne scars. London acne treatment specialists like Stratum Dermatology Clinics provide these services and more. They are award-winning services with over 20 years of experience, working hard to keep their waiting lists short and to maintain a safe environment in accordance with the Care Quality Commission's
standards. Explore chemical peels and more with them. They also specialise in laser resurfacing, another effort at rejuvenating the skin. Before you explore that option, though, it's worth considering the many things a laser can do as a viable acne scar treatment method.
LASER THERAPY
Laser therapy can be an effective way of treating acne scars. There are generally three versions of the surgery.
They are:
Fractioned Laser Resurfacing. Non-ablative laser treatment targets the material causing discolouration. The aim is to restore the scar to the same skin tone as the surrounding area.
Ablative laser treatment. Removes a portion of skin near the scar. When it regenerates, it should have a smoother texture and can work with scars that run deeper.
Non-ablative laser treatment. Stimulates collagen production, boosting your body's natural
regenerative and healing factors. Like fractioned laser resurfacing, this doesn't fix the scar but can
make it harder to notice.
There are options within options when it comes to laser therapy too. Once again, the specifics of your acne scar treatment should be discussed with healthcare specialists who know what they're doing and what you're likely to need. Research the process more so you're in a position to ask questions, but be prepared to defer to their judgement.