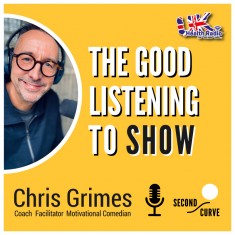 THE GOOD LISTENING TO SHOW:
Welcome to the Clearing!
The Feel Good Show here on UK Health Radio that features "The Clearing": Where all good Questions come to be asked – and all good Stories come to be told!
"Being in the "Good Listening To Show" is like having a 'Day Spa' for your brain!"  Wendy Bagger
About Me: Hello! I'm Chris Grimes. I am a Personal Impact Coach, Facilitator, Podcaster, Actor and a Motivational Comedian!
My all time comic hero is Stan Laurel, so I always promise to bring good humour – and kindness – here on "The Good Listening To Show".
When I am not Presenting here on UK Health Radio, I am a Communication Skills Facilitator & Coach with 21+ years of 'multi-organisational experience' and a super-objective perspective: So if you'd like to work with me, you get to CHOOSE which specific aspect of your Communication Skills that you and/or your Teams would like help to 'Level Up' on.
In a nutshell I help Business Professionals, Leaders and your Teams to "Level Up' your IMPACT: To be Clearer, more Confident, Resilient Effective & Memorable.
Click here to find out more: https://secondcurve.uk/app/uploads/2018/06/SC_level-up.pdf
TRAINING & BACKGROUND:
I am a Drama Teacher, an Actor and a Comedy Improvisation Performer by training & background. I combine all 3 Performance disciplines and apply them directly to what has been described as being my "powerful & compelling approach" to Communication Skills Training & Coaching.
My Communication Skills Training & Coaching Company is called Second Curve (www.secondcurve.uk)
Storytelling – and my use of humour in particular – is what definitely 'sets me apart' to make your Training & Coaching experience with me more memorable, enjoyable and EFFECTIVE.
And as an Actor I am Artistic Director of the Bristol based & highly acclaimed Comedy Improvisation Company, INSTANT WIT (www.instantwit.co.uk)
My Acting website is www.chrisgrimes.uk
As mentioned above, my all time comic hero is Stan Laurel. As an inspiration, compass and as a general 'style guide' to my approach to all that I do, Stan Laurel reminds me to keep it funny and engaging – to keep it clear and accessible – and above all else, to keep it kind, underpinned by generosity, humility and warmth.
My all time living comic hero by the way is Michael Palin: So the day I can interview HIM for "The Good Listening To Show", we'll all know that I've made it! (…I'll just leave that here!)
If you'd like to contact me about the Show – or if you'd like to find out more about how we might be able to work together, my Email is: chris@secondcurve.uk
THE GOOD LISTENING TO PODCAST ON BUZZSPROUT:
https://thegoodlisteningtopodcast.buzzsprout.com
THE GOOD LISTENING TO PODCAST & SHOW FACEBOOK GROUP:
https://www.facebook.com/groups/842056403204860
'LEVEL UP' YOUR IMPACT PROGRAMME FLYER:
https://secondcurve.uk/app/uploads/2018/06/SC_level-up.pdf
#LOLVIRUS: SPREAD A LITTLE HAPPINESS – FACEBOOK GROUP:
https://www.facebook.com/groups/526702634947172/
Learn more on: