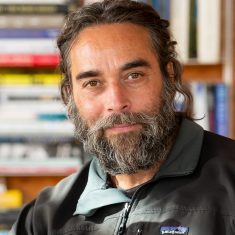 Dancing with life, listening to Nature, trusting intuition and co-creating with spirit are my fundamental qualities. These ways of being have built a strong foundation in how we can all operate. Purpose has always been my driving force!
Jarvis Smith is co-founder of the UK's most widely distributed ethical lifestyle magazine My Green Pod and founder of the UK's leading sustainability & climate awards P.E.A. (People. Environment. Achievement) Awards, both 15 years old.
 
Now a pioneer and thought leader in the sustainability and ethical shopping arena, Jarvis' had to go through a baptism of fire, hardcore training with a female shaman indigenous to the UK for 14 years before understanding what's truly needed from us all for this time we are calling a Climate Crisis.
Jarvis says the biggest gift from this training was being able to deeply listen to the Earth and all her wisdom, a skill most of us have lost by becoming addicted to the outside World.
Learn more on: