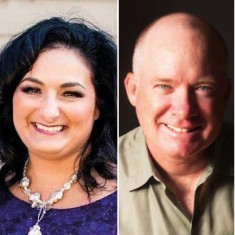 Liz Larson is a self-ascribed Idea Generator and "Mad Scientist".
She is the author of the E- Book Suffering is Optional, and is a CoDeveloper and Collaborative Partner in the Cognomovement Systems with Founder Bill McKenna.Liz has made it her mission to keep pushing the boundaries of possibilities in the consciousness, awareness, self-development and wellness fields.
She is an expert at turning possibilities into technologies that can be used to create fast and lasting change! As a Master Certified Neurolinguistic Programming Practitioner, Liz has taken the art of combining strategies that work to a whole new level. She has pioneered modalities that combine esoteric and spiritual studies with the scientific and practical to facilitate significant change in the way brain, mind, body and spirit function.
Liz became an avid student of the brain and its ability to change after the devastating diagnoses of brain illnesses in both of her parents. As a result Liz has become a go-to for Doctors and Therapists who find that their patients are stuck in an old pattern and can't move forward with traditional treatment. Liz releases these old patterns, which allows for their progress to continue and for her clients to thrive.
This work has become one of the greatest loves in her life as it truly helps people end suffering while answering the age old question, "What is enlightenment and how do we get there?"Liz's favorite things include, exploring the weird and wonderful sites in her area like Mt. Shasta and introducing people to Sacred sites in Sicily, asking questions and engaging in strange conversations with interesting people.Liz lives in beautiful Southern Oregon with her husband and son and leads retreats to her family home in Sicily with her daughter, Leah. She also works with her daughter in developing the materials for the Cognomovement Systems.
Bill McKenna
Marathon runner, martial artist, helicopter pilot and former adrenaline junkie turned spiritual teacher, Bill McKenna has pioneered a ground breaking method for creating massive change, shifting perspective and raising consciousness.
And it all centers around a brightly coloured ball…
Bill McKenna is the Author of The Only Lesson and the founder of the Cognomovement Systems.
During his own life-changing spiritual awakening, Bill studied with a number of master teachers to learn the secrets of self-discovery and the ability to create miraculous change in his life and in the lives of others. Bill now shares those secrets with his students in his renowned, Secrets of the Masters Series.
While in the pursuit of gifting what he had learned to others, he wanted something that could help people in a faster, longer-lasting and more profound way. That's when Bill began working with Cognitive Movement and discovered that change could be fast, easy and even permanent! He then began to develop the groundbreaking technology of the Cognomovement Systems with his business partner Liz Larson.
Today, Bill is creating miracles for his clients along with Cognomovement practitioners around the world!
Learn more on: