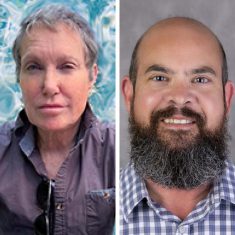 Presenter
Dr. An Goldbauer is a trans-identified male and serves in numerous capacities as a volunteer, professor, consultant, Anti-Human trafficking expert, and photojournalist. He is an Advisory board member and professor at the International Transgender Certification Association in Miami Shores and the International Institute of Clinical Sexology.
He serves as a committee member at the University of North Florida (UNF) on the Student Affairs Community Council. He is a board member and media specialist at the AIDS Memorial Project of Northeast Florida. He is a Transgender Care Consultant, Diversity Trainer, Best Practices and Prevention Curriculum Facilitator, and Effective Case Management with survivors. He is a consultant at the Delores Barr Weaver Policy Center.
He is a member of the National Press Photographer's Association (NPPA) and American Society of Media Photographers, a former Radio Host with Radio Reading, and a past board member at WJCT Public Broadcasting, an NPR affiliate 89.9 FM in Jacksonville, Florida.
His works have been displayed at the Museum of Contemporary Art (MOCA) in Jacksonville, Florida, featuring political leaders in an exhibit titled "In Honor of the Chair." He held a photo essay Queer Works exhibit at UNFs Lufrano Gallery's Intercultural Center in tandem with Dr. Thomas Serwatka's book launching titled Queer Questions Clear Answers, a former University of Northeast Florida Vice President. The exhibit Queer Works included gay rights activist Frank Martin Gill, who partnered with ACLU and sued for the right to adopt two boys in his care. He served as a speaker at the Florida Collegiate Pride Conference in 2014 at UNF – The Role of Media in LGBTQIA.
Other items of his works prior to his transition have been featured in Arbus, Jacksonville's Arts, and Business Magazine. He is working on his film project, Message for Parents, a documentary for parents with transgender, intersex, and gender-diverse youth. He has conducted over 60+ interviews, including pediatric endocrinologists, child psychologists, therapists, trans pediatricians and therapists, attorneys, parents, and trans youth. He serves as a book editor for gay and queer playwrights.
Co-presenter
Zander Keig, LCSW is a sought-after emotional, mental, spiritual, and social fitness webinar facilitator and motivational speaker.
Zander's unique perspective as a fiftysomething-year-old first-generation American of Mexican heritage (Latino) trans man, childhood TBI survivor, and neurodivergent first-generation college graduate with a BA in Interpersonal Communication (1999), MS in Conflict Analysis and Resolution (2003), MTS in Theological Systems (2004), and an MSW in Clinical Social Work (2012) with subject-matter expertise in conflict mitigation, social care, perennial wisdom, and mental well-being, influences all aspects of his work.
His advocacy involves serving as Welcome Ministry Board President and Institute for Liberal Values Diversity Director. Zander is a family caregiver who co-founded the LGBTQ Caregiver Center and serves on the National Alliance of Caregiving Mental Health Advisory Committee, RISE Registry National Advisory Board, and Better Living for Seniors Special LGBT Committee.
Zander has been recognized and awarded for his many efforts over the years: 2020 Social Worker of the Year, 2020 WPATH Harry Benjamin Distinguished Educator, 2018 CA Social Worker of the Year, 2016 SF CARES Outstanding Social Worker, 24th Annual Lambda Literary Finalist – Transgender Nonfiction, Top 50 Successful Transgender Americans You Should Know, These 48 Trans Women and Men Changed the World,  NASW 1000 Experts Campaign, and Trans 100.
Learn more on: