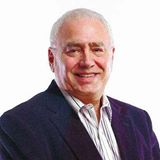 Dr. Robert A. Weil – The Sports Doctor™ is the host of The Sports Doctor Radio Show, on http://www.healthylife.net/ He was formerly on WDCB 90.9 FM in Chicago for more than 20 years. The Sports Doctor's articles are also read in many newspaper columns and magazines. His articles & past shows are available on our website at: http://sportsdoctorradio.com. Please like Sports Doctor Radio on Facebook and follow @SportsDocRadio on Twitter.
"My specialty in sports medicine is orthotic therapy, combined with specific training & strengthening of the feet & ankles. I've been fortunate enough to have worked with some of the best athletes in all sports including many of the Super Bowl Bears back in the 80's, tennis greats John McEnroe & Tracy Austin, & numerous Cubs & White Sox.
A true highlight of my career was watching Naperville's hometown figure skater Evan Lysacek, who I first saw as a nine-year-old and put orthotics in his skates, win the 2010 Olympic Gold Medal for men's figure skating with his orthotics (updated of course!) still in his boots. These high performance youngsters still remain my passion.
Another big interest of mine is the challenge of our country's greatest epidemic: childhood obesity. I co-hosted a 45 episode podcast "Kids Beating Obesity" with Rick Osbourne, creator of Pull Your Own Weight, an innovative simple method, stressing PREVENTION. You can access episodes on website."
Dr. Robert Weil DPM