The Good Listening To Show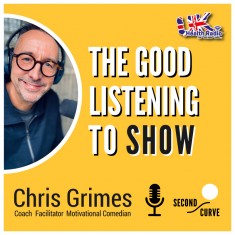 Chris Grimes
Presenter
THE GOOD LISTENING TO SHOW: Welcome to the Clearing! The Feel Good Show here on UK Health Radio that features "The Clearing": Where all good Questions come to be asked - and all good Stories come to be told! "Being in the "Good Listening To Show" is like having a 'Day Spa' for your brain!"  Wendy Bagger About Me: Hello! I'm Chris Grimes. I am a Personal Impact Coach, Facilitator, Podcaster, Actor and a Motivational Comedian! My all time comic hero is Stan Laurel, so I always promise to bring g
"The Good Listening To Show" is the feel good Storytelling Show that brings you "The Clearing": Where all good Questions come to be asked – and all good Stories come to be told…
Think 'Desert Island Discs' but in a Clearing! And think Stories rather than Music!
And also think about Shakespeare's "All the World's a Stage" – and about "Legacy" in particular!
"Who are you? What's your Story? And what "life's-lessons-learned-along-your-way" would you like to share with us?"
There are some lovely juicy Storytelling Metaphors to also enjoy along our way:
The Clearing itself – a Tree – a juicy Storytelling exercise called "5-4-3-2-1" – some Alchemy – some Gold – some Shakespeare – and a Cake!
So it's all to play for!
"In a Clearing is a Tree – and you and me!"
So yes!
This is "The Good listening To Show" with me Chris Grimes!
"A GLT with me CG!" (see what I'm doing there?!) is the UK Health Radio Show that gives you a "damn good listening to!"
And where all my guests have 2 things in common: They are all Creative Individuals and all with an Interesting Story to be told!
And as my Guest: "Now is your moment in the Sunshine to tell your Story".
So – let's get listening!
"Being in the "Good Listening To Show" is like having a 'Day Spa' for your brain!"
Wendy Bagger
Episodes
Simon Bergenroth Career Progression Consultant on the 15th anniversary of his Father's Death by Suicide - A story of Purpose and Conviction Embracing Light and Darkness