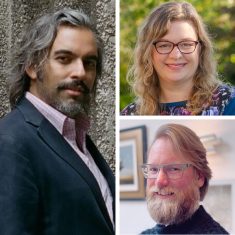 Kaveh Memari – Founder
Kaveh credits his nomadic upbringing with his unique perspective on life. Fourteen schools in four countries enabled him to move across ideas, cultures and languages, which has served him to this day. A confessed heretic, where every opportunity is a work-in-progress, challenging the status quo in aid of people and planet, and unfettered love to create and invent. His driving force is to serve the human condition, to feel better and be the best self, a mission particularly relevant in the post-pandemic world.
'The inspiration for sofi is deeply personal. My family has struggled with anxiety, and I've experienced its distress. As a parent, I've come to feel profound powerlessness, especially where the standard practice is a choice of which medication to try first. 
I have always believed and hoped that there would be a better way. So we created sofi, with a commitment to use the potent properties of plants to harness nature's inherent power to provide relief and balance, offering a whole new way to the best self, without solely relying on the usual tools.'

Pamela Spence
Pamela has been fascinated by herbs since growing up surrounded by the fragrant wet markets of Singapore as a teenager. After a hectic career in film and television, she left to study herbal medicine in 2002 and has been running a successful clinical practice, writing and teaching about herbs ever since. 
Pamela is often spotted giving expert comment in the media, including her own BBC online series, Hello!, Women & Home, Financial Times, The Telegraph and most recently on TalkTV. She has taught around the world, including Russia, East Africa, Italy and Germany helping connect people to their local plants, as well as formal training for a new generation of medical herbalists through her work with the Betonica School of Herbal Medicine in the UK and the prestigious Herbal Academy in the US. 
She has been the Twinings Herbal Expert since 2016 advising on new herbal products for the global market helping design the hugely successful Superblends range since its inception. Pamela's product development agency, Plant Potential has supported many start-ups and she is the sofi.health in-house herbalist.

Vincent Boon
Vincent Boon's life's work is his passion for online communities. Vincent is the co-founder of Standing on Giants, the agency building thriving online communities for companies that care. In the last 20+ years he's driven the development of customer communities for brands like Eidos, Sony PlayStation, giffgaff, Telefonica and Airbnb to name but a few. He's always striving to bring the customer closer to the brand. And leverages the power of customers to support the business with faster development lifecycles, excellent customer support, and ensures they are involved in designing products, services, marketing and sales, with the end goal of creating community driven business models.
In addition to Standing on Giants, Vincent works as an independent Advisor with brilliant startups and established enterprise companies, helping to design communities into products and services and shape community vision.
"Community is not a tactic or a weapon that you add to your arsenal. It is an upgrade to your business strategy."
Learn more on: