4 Health And Fitness Focused Job Roles Worth Considering If You Are Ready For A Career Change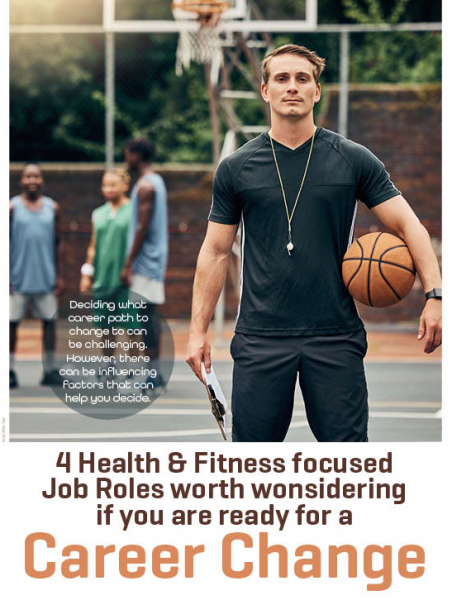 Have you been debating a career change? Sometimes all it takes is a situation to occur when we begin to think about the future, where we want to be, and the job we want. This is one of the many reasons people change their jobs.
Deciding what career path to change to can be challenging. However, there can be influencing factors that can help decide. For instance, if you have been making changes to your lifestyle, such as improving your fitness, you might have discovered a new passion – something you are interested in exploring further. This interest might have influenced you to look into careers in health and fitness roles.
If you are debating changing to a career that is health and fitness related, it might be overwhelming deciding what route to take. Here are a handful of options worth considering if you are ready for a career change to a more health and fitness-focused job role.
Consider Being A Fitness Instructor
One of the reasons for your decision to want a career change is because of the positive impact that focusing on health and fitness has had on your life. This positive impact it has had might have inspired you to want a career in health and fitness, allowing you the opportunity to make the same difference in someone else's life. One way to do this is through being a fitness instructor. As a fitness instructor, you can help to create a personal exercise plan for an individual to follow. You can be a support that shares tips and exercise regimes for them to follow, to help move them one step towards their fitness goal.
If you don't have any experience in this area, that is perfectly fine. There are plenty of fitness instructor and personal trainer courses that you can enrol on. For instance, you could enrol on one from The Fitness Group, which offers various accredited fitness instructor courses to choose from. Each one could help you to move one step closer to starting a career as a fitness instructor.
Become A Health And Wellness Coach
Another way to help support people as they search for ways to improve their health and fitness is by becoming a health and wellness coach. The role of a health and wellness coach is to provide support to individuals on their health journey. It could be advising them on how to increase their motivation levels to continue pushing themselves to reach their health targets and offering advice on how to commit to these lifestyle changes.
Similar to becoming a fitness instructor, when becoming a health and wellness coach, taking a course is the first step in your journey for a career change. Taking a course will provide you with the qualifications needed to move forward but also allow you the opportunity to progress. Everything learned from the courses can be built on and developed, helping you to become a great health and wellness coach.
Looking Into A Role As A Physical Therapist
There is an abundance of ways to help an individual improve their health and fitness. However, along this journey, a person might sustain an injury that could prevent them from progressing forward toward their goal. Understandably, this can be difficult for some, so finding the support to build strength following an injury is crucial. Many will turn to the support of a physical therapist. The role of a physical therapist is to help with rehabilitation, providing gentle exercises and ways for an individual to improve their strength.
When looking for health and fitness-focused roles, a career as a physical therapist will certainly feature options to consider. Whilst a physical therapist might offer support as an individual is lifting weights or sharing nutritional tips and changes to make, they are providing continuous care to help individuals continue on their journey. Additionally, they share advice on preventative care which can help to reduce the risk of further injuries.
Switch To A Fitness Manager
Of course, not every health and fitness-based role requires extensive training. Some roles you might already have experience in. For example, you could look into applying for a role as a fitness manager. Your current role might already be in a managerial position, so you will have experience handling customer queries, leading a team and being organised. All of these qualities are ideal for a fitness manager.
Combining your experience in managerial roles (or similar roles) with your love of fitness, changing your career to a fitness manager could be ideal. The role provides many opportunities to support others while ensuring that the fitness facility is well-marketed and properly functioning.
Ultimately, switching careers can be a daunting prospect. The thought of changing from something you know so well to an area you are unfamiliar with can feel like a significant leap. However, it is a leap that could be worthwhile in the end.