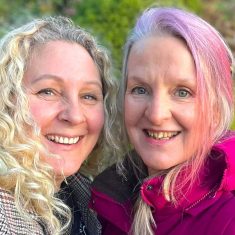 Clara Apollo, Sarah Lloyd, Kathy Bell & Zoë Foster
Presenter
Shows: Mother Speaks
Clara Apollo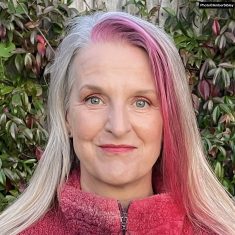 Clara is an Elemental Qigong and Meditation Tutor, personal energy mentor, broadcaster, writer and older Mum-of-One. She encourages you to tune in and drop into your vital Qi – life-force energy – to ground, centre, destress and find your flow for a well balanced, healthy and empowered life.
Clara includes Reiki, FreeMind Hypnotherapy, Sound Healing, Shamanic Practices, Ecstatic Dance, and Colour Psychology to help create a safe, intuitive space for you to access, express and nurture your unique wellbeing needs.
An ex-nurse and costume designer, Clara became an Elemental Qigong teacher and Usui Reiki Master after a severe RSI on her forearms made it impossible to continue her previous career. After her son left home, so did she – living 'HomeFree' for 5 years exploring Europe, creating Qigong retreats, producing radio shows and running the UK based Conscious Living Events. This lifestyle eventually ran its course and she heeded the call to re-home herself, in the land of Avalon, Somerset.
Clara offers online and in person Qigong sessions, teacher training, 1:1 and retreats; adding 'Free Your Qi' Inner Alchemy hypno-meditation journeys when called to deepen into your multidimensional presence. These can be easily accessed from the Apollo Qi App.
Clara hosts 'Chi Time' and 'Mother Speaks' on UK Health Radio, YouTube and Podcast and was awarded 'Media Excellence of the Year 2022' from the 22nd World Congress of Qigong/Tai Chi/TCM/Natural Healing.
Apollo Qi App: https://apolloqi.passion.io
Sarah Lloyd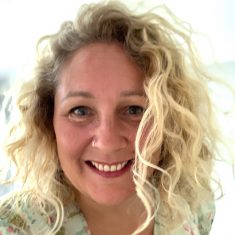 Conscious mother to two little girls, Sarah is passionate about giving those who need one a voice. Through her own brand of magic-based, conscious PR and communications, she has supported many women and entrepreneurial mothers in business to share their stories. She also gets that there is a need to balance it all.
An intuitive, angel communicator and Reiki Energy Master herself, she specialises in working in 'flow' so has thrown the PR rule book out the window. Her mission is to teach and guide changemakers and visionaries to share their stories, without fear, on their terms. Her purpose is to show others it is possible to carve a new way of being.
Her offerings include the Cosmic Connections Container, which is a 3 month journey which teaches you how to promote yourself in a way that feels good. She supports and holds space as blocks unearthed and transmuted. Opportunities to share and connect outside of the circle are shared, and at the end of the 3 months transformation is guaranteed.
Kathy Bell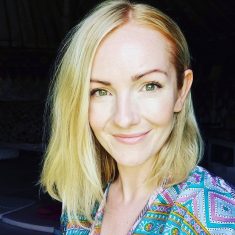 Conscious mother to one, Kathy is an experienced breathwork facilitator, business mentor and published author whose love language is holding loving, clear & expansive spaces for you to ground your soul's essence into your human reality whilst supporting you to step fully into the work that you came here to do.
Kathy has created her own facilitator training to teach others her unique formula for holding safe & sacred spaces and continues to share authentically, from the heart that: "being human is the point" when it comes to spirituality.
Kathy works with conscious leaders, facilitators, coaches and humans who long to be held too, so that they can show up radically grounded, spacious and rooted in the truth of The Deepest Connection To Their Souls Purpose
Working 1:1 with Kathy is a sacred space to land as the pressure of life is released, to create  the spaciousness inside so there is room to create, show up and live the most authentic Self.
Zoë K. M. Foster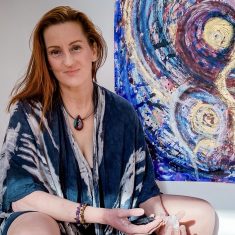 Zoë channels immersive, energy art as mega-manifestation portals for divinely feminine rebels. She is also the creator of her SacredExpression™ method, combining sacred geometry, Jungian mandala psychology and fully-embodied, energy-expanding self-expression.
Into her work, she brings over 20 years of training and experience as a cognitive psychologist, yoga teacher, energy worker, and spiritually-creative misfit.
From her barn studio space in the wilds of mid-Devon, she hosts energy-shifting women's circles, messy art workshops and energy-art open days.
Find out more about the SacredExpression™ Method and how it invites you to play, and really trust the wisdom of the body and all her energies – child, maiden, mother, crone, and divine. In this sacred space, we cannot help but begin the journey of inhabiting and expanding into our most fully expressed selves – with utmost integrity.
Behind the Paint – Get intimate with Zoë in her studio where the immersive energy art happens! Be the first to discover what she is painting, what her current inspirations and challenges are, and have your say on her creative decisions!
Cosmic Transmissions Incoming (zoekmfoster.substack.com) Juicy, curious, and often provocative content that does not fit into the mainstream social media model. Read, discuss, and give your feedback within the community. Read the series where she shares her 'My Failed Book' story and how it led to her completely unbound book, 'It's Written in the Stars: Poems, Reflections & Transmutations on Becoming.'
Zoë writes regularly for the mainstream and spiritual press.
Learn more on: