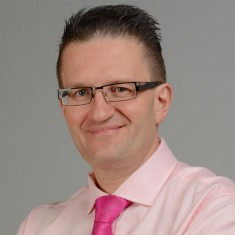 Presenter Peter Allton
Peter qualified as a Podiatrist in 1988 and has worked in both the public and private sectors over the past 4 decades, treating in excess of 300,000 feet.
He currently is the Clinical director and Principal Podiatrist at the multi award winning Circle Podiatry which he founded in the mid 1990's. Circle Podiatry has won numerous awards over the years but the one they are most proud to have been awarded was winning Best customer service at the 2017 FSB London business awards.
Peter is a published author of "Undefeeted by Diabetes" and has 2 Foot related passions, the first already being addressed by his other UK Health Radio show called The Diabetes Show aims to help people with diabetes live safely minimizing the chances of complications developing particularly with the feet that can lead all to often to amputation. The show supports the work of his not for profit organization Undefeeted which won the title of the UK's Best not for profit at the 2018 SME Business awards.
His other passion is to help raise awareness of the importance of foot health in the general public in all age groups. He believes that all children should be assessed at least twice before their 12th birthday.
He states. "Generally people don't place as much importance on their feet as they do their teeth or eyes and yet they are destined to carry them 5 times around the world – many complications with the feet and legs could be prevented if people were aware of what is normal rather than just assuming all is ok."
"The most common thing I hear from my patients is – if only I had known earlier".
That's why we have started the foot and leg show- to let you know what can go wrong, what to do and to know that the right person to see for any foot or leg problem is a Podiatrist.
Learn more on: