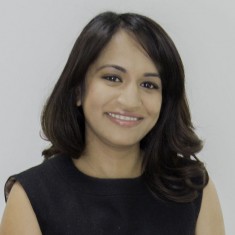 Shermeena Rabbi
Presenter
Shermeena Rabbi is a Consultant Speech and Language Therapist who has been working for fifteen years. She is founder of Unlocking Language, an award-winning independent Practice that provides speech and language therapy to children, adolescents and adults across London and Essex in the UK.
Prior to starting her own company, she worked for ten years as a Speech and Language Therapist in both the NHS and private sectors building an expertise in communication disorders (speech, language, communication and swallowing deficits). She has been selected to work with royalty and diplomats both in the UK and internationally who have communication difficulties, as well as being a medico-legal expert in her field.
Since its inception in 2013, Unlocking Language has grown into one of the largest and most successful practices in the UK, with the head office and 6-day a week clinic in Canary Wharf. Shermeena's Practice has developed fast track clinics in East London, Essex and Harley Street. There are no waiting lists and both children and adults receive an evidence based, highly qualitative therapy service.
Shermeena has pioneered new ways of delivering speech and language therapy and is regarded as an expert in her field. The Practice is commissioned to provide services into schools, rehabilitation units, hospitals, courts and prisons. Her innovative approach to therapy and her entrepreneurial flair has seen her team utilise bespoke and effective models of therapy, technology, and products to enhance client outcomes and success rates.
Shermeena champions the rights of people who cannot communicate enabling them to have a voice and has played a fundamental role in raising awareness of special educational needs and reducing the stigma of the disability in the inner-city London communities.  She has been involved in various efforts to make her profession more accessible and highlight the disproportionate impact that speech and language difficulties have on poorer inner-city communities. She is breaking negative perceptions around disability by empowering people to communicate
Shermeena is an inspirational business woman and leader and has won numerous accolades for her entrepreneurial endeavours and clinical excellence. She regularly mentors early stage female founders and is part of the Women of the Future Scheme in the UK.
Email: info@unlockinglanguage.co.uk
Learn more on: