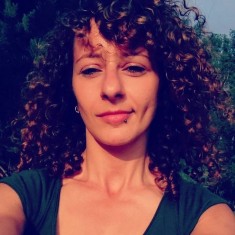 Yara is a Wilderness Skills & Bushcraft Facilitator, Forest Bathing Practitioner, Archery Instructor, Public Speaker, Presenter & Environmental Campaigner & Activist. Having first encountered survival skills as a teenager whilst living in tropical rainforests with remote tribal cultures. Yara began a new path in life, learning about the skills of self-sufficient cultures that depend upon nature to survive. She has dedicated her life's work in educating on wilderness skills, outdoor education, environmental awareness, nature connection, trees & woodlands, forest conservation, reforestation, educating on indigenous knowledge and encouraging sustainable living.
Wildeye Adventures is outdoor company creating woodland courses/camps/events for both young people & adults. Educating on bushcraft, wilderness skills, forest bathing (eco-therapy) and supporting environmental projects involving trees, habitat preservation and reforestation. Yara "speaks for the trees" and guides people into forests. Sharing skills of the wild that bring forth a sense of adventure, self-empowerment, self-sufficient skills and discovering how to work with nature, rather than against it.
Having worked in the outdoor & environmental industry for over a decade. Yara acts as an ambassador to environmental NGOs that create resilient communities & sustainable projects. Supporting tribal land rights, tree planting, reforestation projects, rewilding schemes that are helping to restore natural habitats & ecosystems.
Learn more on: